Downtown Berkeley
Downtown Berkeley is the go-to place for theaters, performances, movies and restaurants.
Theaters & Entertainment
Addison Street has Berkeley Rep and Aurora live theaters and Freight and Salvage and California Jazz Conservatory music performance spaces. The Berkeley Poetry Walk, 120 cast iron panels, each with a poem, is embedded in the sidewalk beneath your feet.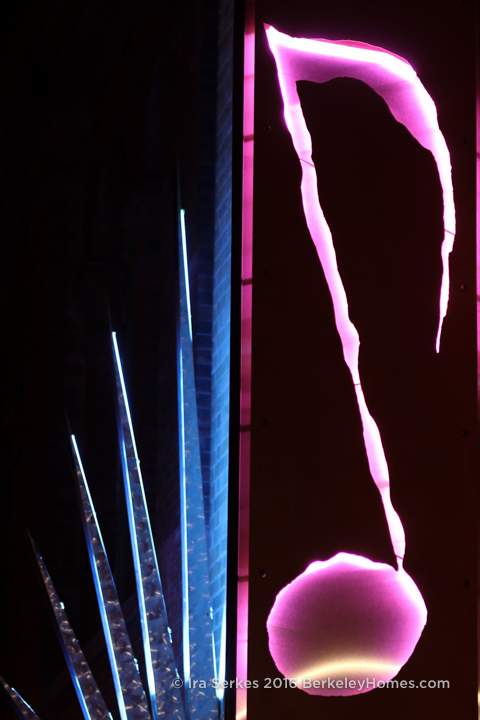 The Marsh Berkeley, an intimate theater which frequently hosts one person shows by gifted performers such as Charlie Varon and Brian Copeland is just a few blocks away.
The UC Theater, where I went to many inspired double-features over the years (yes, including the Rocky Horror Picture Show too) is a "family music hall" in a beautifully restored 1,400 seat theater.
Love movies? Visit the California 3, United Artists and Shattuck Cinemas. The California 3 blue and gold (go Cal!) neon marquee lights up the street; United Artists a bas-relief deco facade and a superb mural in the lobby.

Sorry we are experiencing system issues. Please try again.

Architecture & Museums
I'm an Art Deco architecture fan; downtown Berkeley has several superb examples. Two of my favorites are the Berkeley Library and the bas-relief on Berkeley High School at Martin Luther King. Be sure to check out the Kress Building at Shattuck and Addison, the facade of the United Artists Theater, and California 3 Theater is blue and gold neon marquee.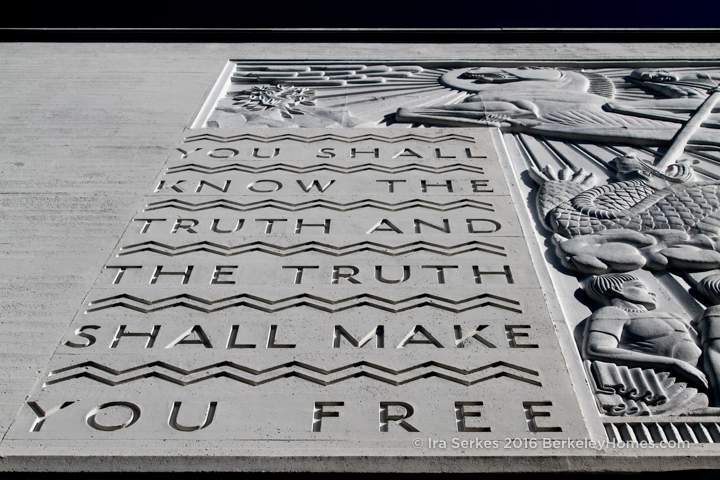 The Magnes Collection of Jewish Art and Life and the University Art Museum are each in repurposed downtown deco buildings. The Berkeley Art Museum retains the facade, and the amazing lobby and staircase of the University of California Press building. This is where the Charter Of The United Nations was printed in 1945.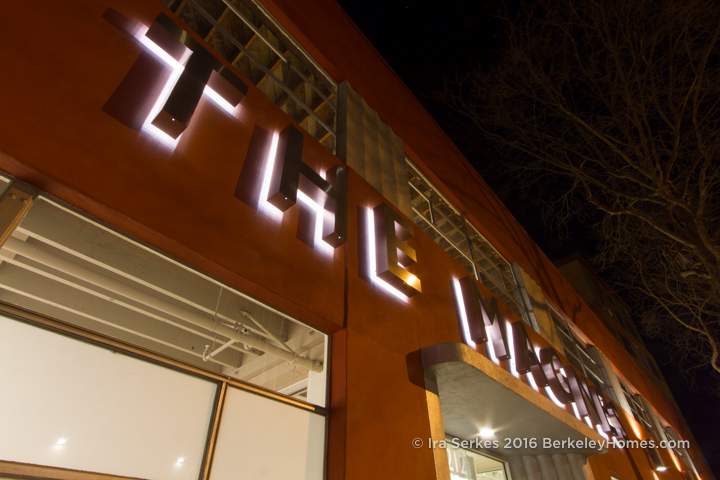 Berkeley Historical Society on Center features several interesting exhibits every year. I'm particularly fascinated by the old Sanborn Insurance Maps which show Berkeley is buildings and railroads around the turn of the last century.
Books
In addition to books and magazines, the Berkeley Public Library has a superb collection of music and videos. The Kress Building has a branch of Half Price Books, and one of 3 Pegasus book stores (sister shops on Solano and College) and Fantastic Comics downtown.
Food & Drink
Food? In Berkeley? For sure, and some of the best in the nation!
You'll love Comal, Angeline's Louisiana Kitchen, Venus, Jupiter and Saturn (Mars closed … too many fights). One hidden treasure is Cafe Panini, in a courtyard accessible from Venus and also from Allston near the Magnes Museum. Tree lined Center Street has lots of places to eat, including a Top Dog…terrific hot dogs.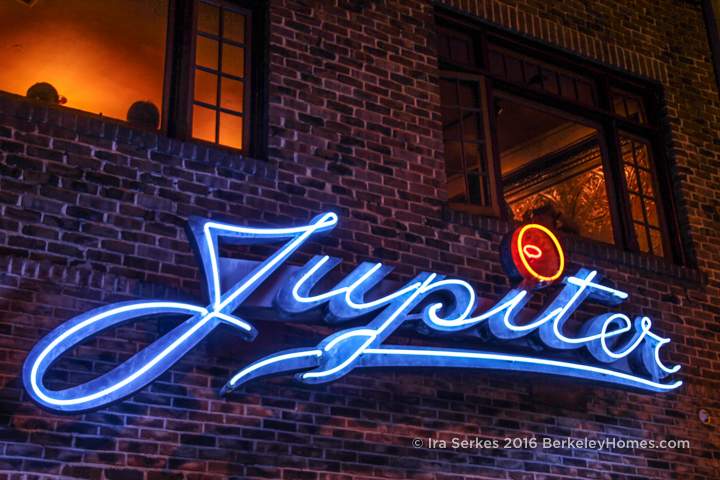 Arinell makes a great most-like-New-York-City slice … and even has Sicilian style. Some of Berkeley's other pizza places places include Gioia (mushroom is my favorite), Cheese Board and LoCocos. Chicago Style deep dish fans love Zachary's.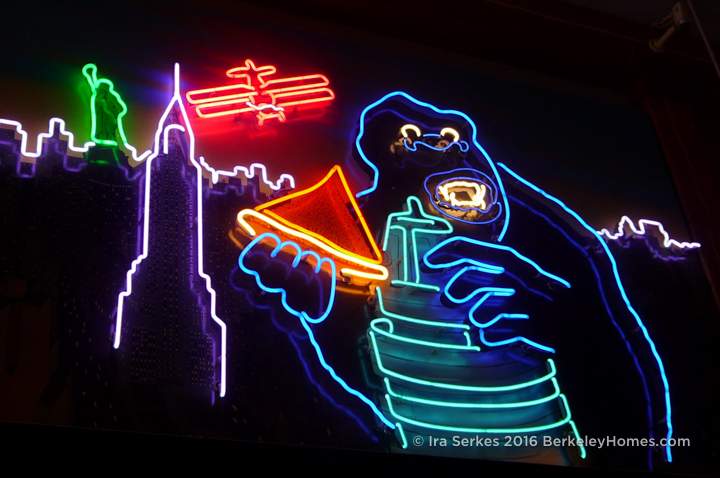 Shattuck Avenue Spats, an institution when I first moved here, has been brought back to life. Triple Rock is nearby at 1920 Shattuck and feels like it is straight out of the 1920s. Jupiter serves food and has a great selection of beers too.
Shopping
MAC is my go-to place for Macintosh supplies and repairs. I've been using them since they had a hole-in-the-wall shop on a 2nd floor walk-up on University
Berkeley Ace is a throw back to hardware stores of the past – wood floors, smooth handrails, and a nice selection of model trains, planes, and books in the basement.
Be sure to check out the Center Street Saturday Farmers' market – food, produce, music and more. The Berkeley Historical Society is in Veteran's Building next door, and is open Thursday, Friday and Saturday 1-4 pm.
Games of Berkeley has a broad selection of game, and Victory Point Cafe is a place to play them with like-minded aficionados.
Lots new construction on the books for Downtown Berkeley! Let us know when you're ready to simplify your life.
#Berkeley #DowntownBerkeley #Downtown #Serkes'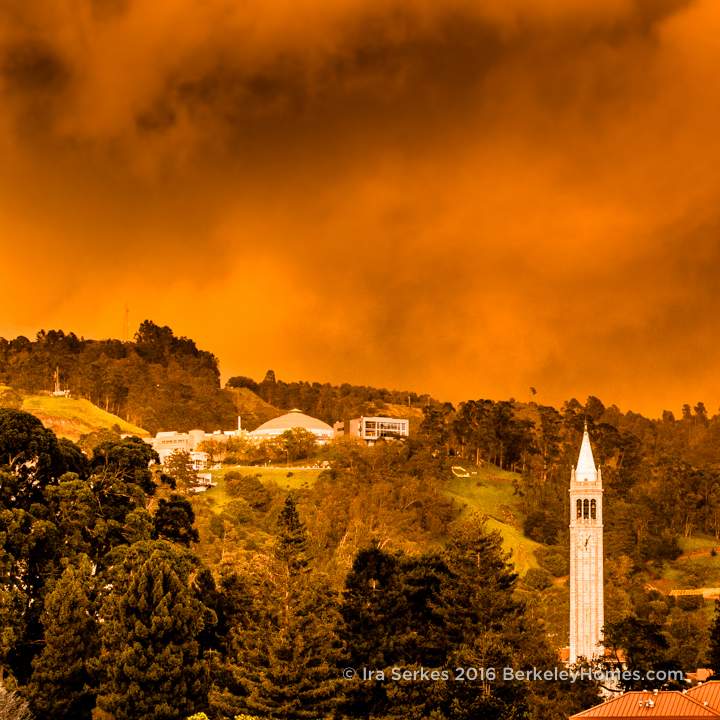 UC from Downtown Berkeley