We live in an earthquake country. But wait, there's more! Some homes are in liquefaction zones, others in slide zones or high fire areas … and a few are in several zones at the same time!
The key is being informed so you know what to expect, and how to prepare your home for moving events.
Maps & Resources
Alan Kropp & Associates created a very useful map of the Hayward earthquake fault and Berkeley slide zones. We refer to it often, so have downloaded it to our iPad.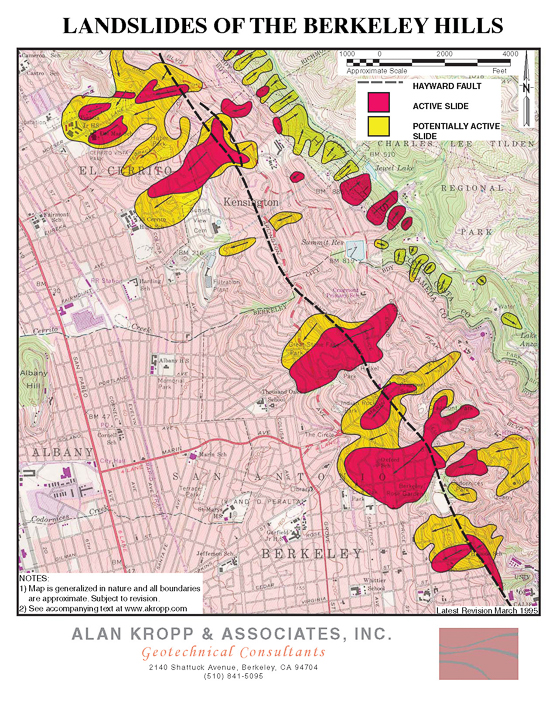 Berkeley Parcel Conditions and Permit History – enter the address and click "parcel conditions" to learn if a home's in one of these zones.
USGS – United States Geological Survey
Earthquake Hazards Program: USGS
ABAG – Association of Bay Area Governments
ABAG Earthquake Maps and Information
Seismic Hazard Liquefaction Maps
California Department Of Conservation
Getting Prepared
Berkeley has an excellent Community Emergency Response Team (CERT) training program; here's more information
City of Berkeley CERT Disaster Preparedness Handbook
City of Albany Disaster Preparedness
El Cerrito Emergency Preparedness
Pets
Oakland Animal Services – Disaster preparedness for your pet
More Resources
Our friend, and amazing Realtor, Raziel Ungar with Pacific Union Real Estate in Burlingame created "Raziel's Ultimate Guide to Emergency Earthquake Kits for Home & Car"
Dave Ford, East Bay Retrofit, is the person we've entrusted to retrofit our own home and recommend him to all our friends and clients.
Join us – be prepared for the "Big One"
#Serkes #Earthquake