Emeryville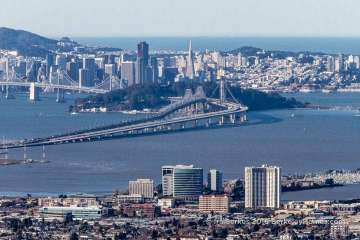 Emeryville – From Low Tech to High Tech
When I first moved here in 1974 to work for Chevron, Emeryville was known for its industries – iron works, a Sherwin Williams paint factory with a large (and wonderful) neon sign, and card rooms. The power plant for the Key Route System … and its tall smokestack were right off the highway.

Sorry we are experiencing system issues. Please try again.

The iron works is now Bay Street, a large shopping center, The Sherwin Williams paint sign is gone, but the card rooms are still here… and so are many of the East Bay's high tech and bio tech companies such as Pixar, Novartis, and MobiTV. On the food front, you'll find headquarters for Peet's Coffee & Tea, Clif Bar, and Jamba Juice. LeapFrog educational games and Inman Real Estate News are all notable businesses that call Emeryville home.
Chiron Life & Science Laboratories (now Novartis) hired the Mexican Architect Legorreta Arquitectos to design their research building, and it's a joy to behold with big and bold colorful spaces.
The heavy industry's almost all gone, but one of my favorite places is the Coulter Forge Foundry to watch the forge at work. Other shops and theaters include the IKEA labyrinth, Bay Street's AMC Theater, Guitar Center, Barnes & Noble Books, an Apple Store and the big box Best Buy and Home Depot just south of 40th Street.
One hidden treasure is Wally's Cafe, a Mediterranean-Lebanese-Greek restaurant with an old-fashioned formica counter. It's behind the Bank Club neighborhood bar, where the old Key Route system streetcar and AC Transit transbay buses once stopped.
The PG&E building on Hollis near 40th Street has stunning sculptures, and the artist Mark Bulwinkel did a series of whimsical metal works on view at the Emery Bay Shopping center.
http://www.nytimes.com/2012/03/04/us/bulwinkleland.html?_r=0
Curved roads and linear parks are some of the vestiges of the Santa Fe Railroad and the Key Route streetcar system. Board Amtrak at Emeryville Station and take the Capitol Corridor from Sacramento to San Jose, the California Zephyr to Chicago, or the Coast Starlight to Seattle or Los Angeles.
http://www.baystreetemeryville.com/directory
#Emeryville #Serkes