We were looking for a broker who is honest, trustworthy, experienced, knowledgeable, and an expert in the local real estate market. We were so fortunate to find two of them – Carol and Ira.
We sold for a price that was way over our expectation and believe it or not, in only 7 days! Carol and Ira have made real estate history!
Carol and Ira have demonstrated their strong abilities, responsibilities, integrity, and professionalism in the fields of real estate business. We highly recommend Carol and Ira for all your real estate needs.
Howard & Cindy Cheuk

Our market research shows that each additional offer a seller receives results in a 3-5% increase in price.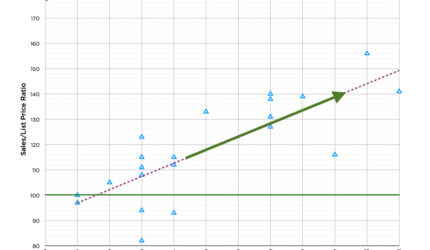 Our listings have sold for 30 – 53% above the list price!
Pricing is an art. When we meet, we'll review market conditions so you'll know the list price which paints the most beautiful picture for you!
Strategic pricing exposes your home to more buyers … and particularly those who can afford to pay more.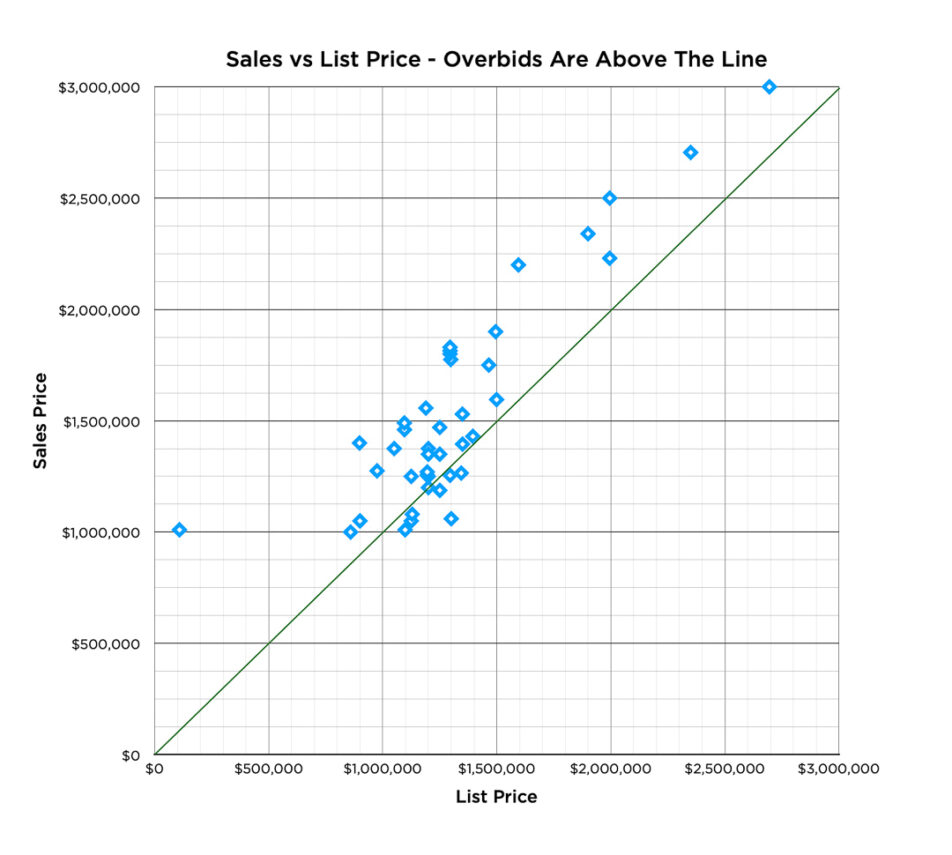 We'll review the current market temperature – we've been through markets that are hot … and not … and show you how to position your home's list price so you receive the highest possible sales price!
Then we'll compare your home's "Automated Valuations" (Zillow, Redfin, etc.) to actual MLS Sales Prices to see how those estimates compare to actual sales trends for homes that have sold near your home.
Zillow says my home's worth …
We'll review detailed market research when we meet; you'll see how actual home values compare to Zillow's Zestimates®
I researched how strongly Zillow's Zestimates® compared to actual market value. Two homes on Contra Costa in Thousand Oaks closed within 46 days of each other. 868 Contra Costa sold for $473,826 more than the $1,167,034 Zestimate®, 910 Contra Costa, only 5 doors away, sold for $437,681 less than the $1,102,681 Zestimate®.
The Zestimates® were only about $64,000 apart; the sales prices differed by over
$900,000! Thus, the answer to the $64,000 question "How accurate is Zillow?" … not very accurate at all!
Here's how the Zestimate® compared to actual sales prices – over half of them were off by more than $100,000. Call us at 510-526-6668 when you're ready to find out what your home's really worth in todays' market!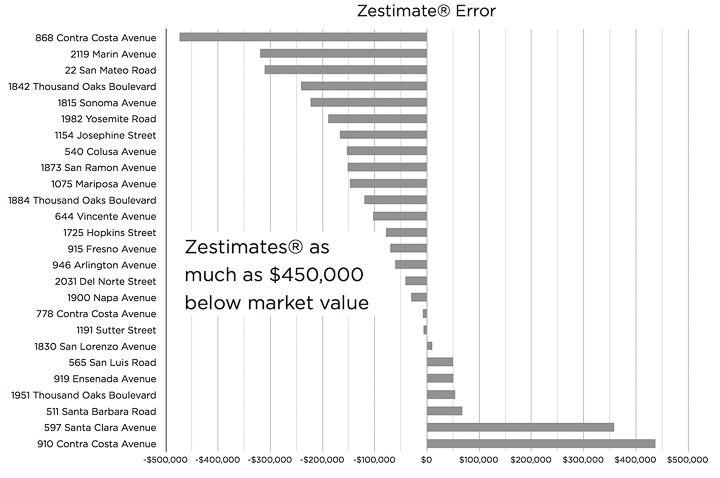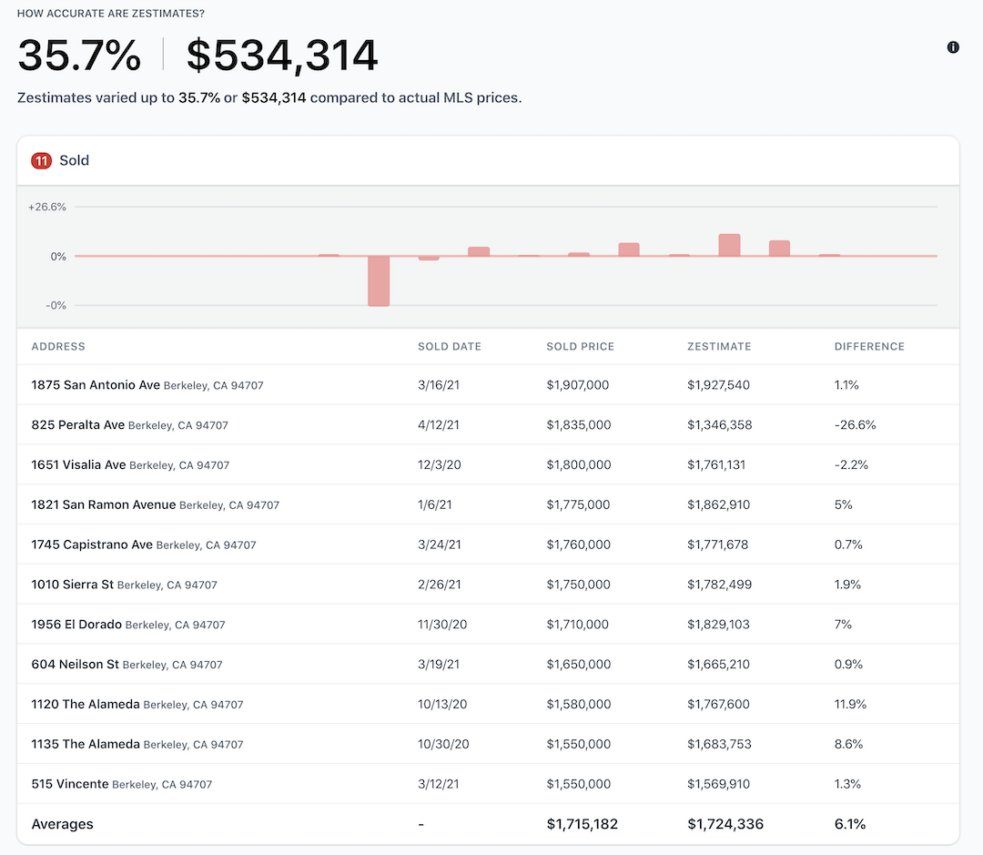 Strategic pricing results in the highest possible price for our sellers … and inspires them to write glowing letters like these:

Gayle and I would like to thank you for all the great work you did in marketing our home and the remarkable price you brought in… as you know from my reaction, it greatly exceeded my expectations
It was an absolute stroke of luck and a real pleasure for us to put ourselves in the hands of such true professionals. We had lived in our home in Albany for over twenty-seven years and we were apprehensive that putting it up for sale would be a trying and difficult process. Quite the contrary, you kept us informed and updated throughout the process. Things moved very quickly and the evening we received the many offers you obtained was exciting and very fulfilling.
Finally, I want you to know that we both regard you as being truly sincere and fine people!
Gayle & Harry Willett

Careful Price Positioning
There are many factors that go into positioning your home at the optimal price. We'll review them with you when we meet; here's one of them:
This doubles your online visibility by pricing the way buyers search … in round price increments.
A simple example – Listing a home at $1,995,000 means it's only seen by buyers searching in the $1,500,000 — $2,000,000 price range. Had it been listed at $2,000,000, it would have also been seen by buyers searching in the $2,000,000 — $2,500,000 price range … and they have more money!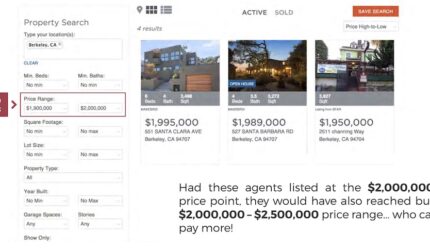 In addition to you both simply being wonderful people, you obviously have a strong understanding of the market trends. You were able to present that information to us in a clear manner and in a way that allowed us to make informed decisions. We are still so thrilled and amazed with the amount over the asking price that you secured for us in the sale of our home. Kudos and Thank you!
Jennifer and Colin Cooper

We had about 14 offers and the house sold well (well, well!) over the asking price. We could not have been happier with the outcome.
Carol and Ira are the consummate real estate professionals and I highly recommend them.
Michelle Adams-Walton & William Walton

#Serkes #Pricing #Zillow #Zestimate #Market #Value #WhatsMyHomeWorth