Oakland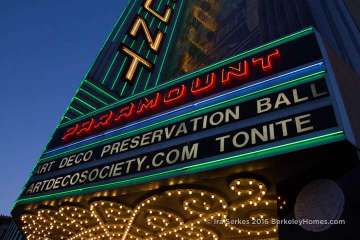 Sub-Areas
There is a "There" there in Oakland!
Gertrude Stein grew up in Oakland. She returned to find her childhood home gone, and said "There is no there, there"
There most certainly is a there … there!
Oakland has some of the East Bay's most pleasant neighborhoods… and you'll really enjoy exploring them. For shopping and restaurants, Rockridge, trendy Temescal, Grand Lake / Lakeshore, and Montclair Village are the places to go.
You'll find Craftsman homes in Rockridge, stately homes in Trestle Glen and Crocker Highland, and story-book homes in Montclair.
Downtown, Oakland's business district, has state and federal buildings and extraordinary Art Deco architecture, most notably the Paramount Theatre, Floral Depot Building (Flora Restaurant and Fauna next door), and the Fox Theater.
Jack London Square is where you'll find Everett & Jones' amazing BBQ, Yoshi's Jazz Club, an intimate performing space with superb acoustics, and Scott's Seafood. Don't miss the dragon boat races in the summer!
The Oakland Museum of California has excellent California Natural Sciences, Art, and History (my favorite) galleries.
Chapel-Of-The-Chimes and Mountain View Cemetery, at the top of Piedmont Avenue, are two long-time destinations. Julia Morgan designed Chapel-Of-The-Chimes, but chose to be buried in Mountain View Cemetery. Her illustrious neighbors include Bernard Maybeck, Domingo Ghirardelli, Francis Marion Smith, "aka Borax Smith" Jane K. Sather, (UC Berkeley's Sather Gate and Sather Tower), and Francis K Shattuck … of Shattuck Avenue.
So… check out Oakland… you'll be glad you did!
#Oakland #Rockridge
Temescal
Montclair
TrestleGlen
CrockerHighlands
Lakeshore
DowntownOakland
JackLondonSquare #Serkes