Ira has more data at his fingertips than anyone I've met in the business. And I am a data guy so it helped me to understand the dynamics of the market.
Jerry Parmer

Research and Analysis are one of the ways we're able to give our clients the edge. Here's some of our market analysis – let me know what's important to you and we'll give you a market update when we meet.
Zillow
Zillow has become the go-to source for market data. Their data is usually accurate; their analysis in Berkeley is not.
Two homes on Contra Costa in Thousand Oaks closed within 46 days of each other.
868 Contra Costa sold for $473,826 more than the $1,167,034 Zestimate®, 910 Contra Costa, only 5 doors away, sold for $437,681 less than the $1,102,681 Zestimate®. The Zestimates® were only about $64,000 apart; the sales prices differed by over$900,000!
Thus, the answer to the $64,000 question "How accurate is Zillow?" … not very accurate at all! Here's how the Zestimate® compared to actual sales prices – over half of them were off by more than $100,000. Selling? Call us at 510-526-6668 when you're ready to find out what your home's really worth in todays' market!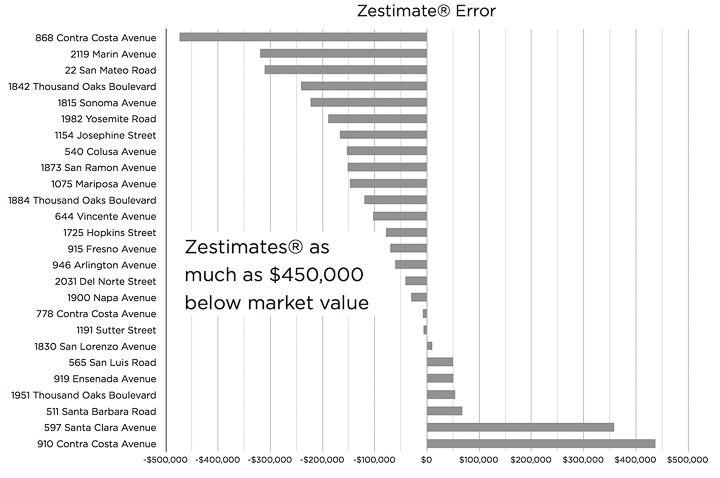 Market Activity
There's a strong relationship between how many buyers ask for property disclosures, and how many offers the home receives. We've found about 1/4 to 1/3 of the agents who ask to review the disclosure package end up writing an offer on home. Some homes do receive a higher percentage, others receive a lower one.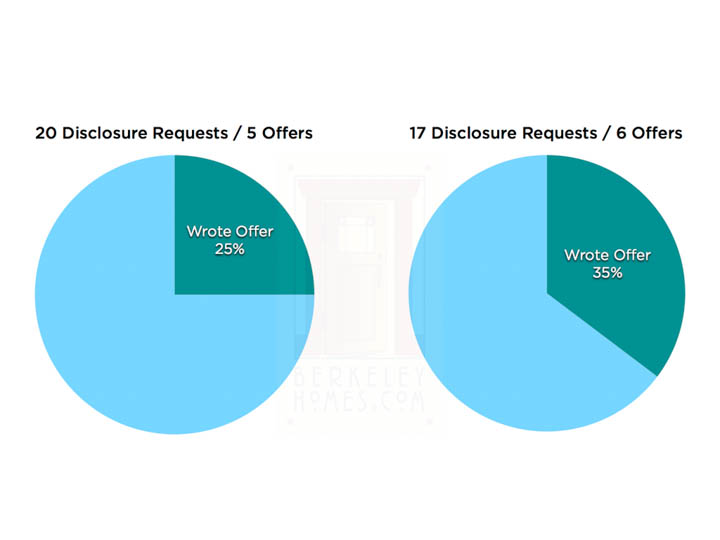 Graph — Sales/List price vs # of offers
There is also a strong relationship between the number of offers and how much over the asking price it sells for.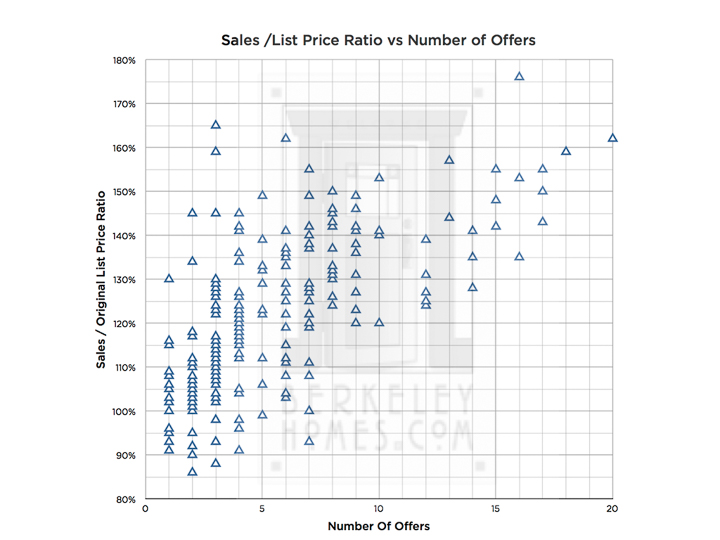 This is an overview of all homes which sold in Berkeley … the graphs tend to be tighter for specific neighborhoods.
Sales/List Price vs Days On The Market
Most homes sell in about 10-14 days. Once a home's been on the market 30 days, it generally sells for less than the original list price, and likely for less than it would have sold for if it had been on the market at a price designed to generate multiple offers.
Sales Price vs. Square Footage
Though there's a great range in home condition, we've found a nice relationship between the square footage of a home and the sales price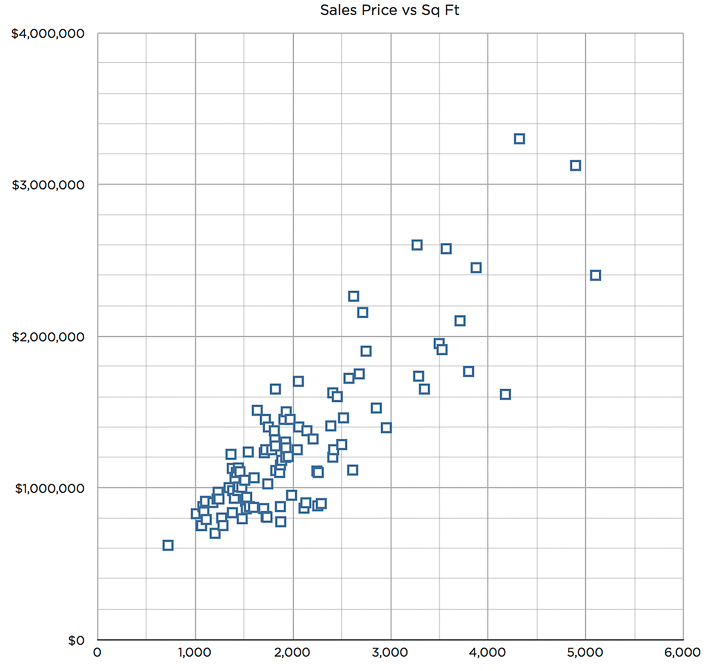 The median Berkeley home is about 1,700 square feet
Berkeley Fine & Luxury Homes
Over the past 15 years, Berkeley's fine and luxury homes (those in the highest 5%) have sold for about twice that of Berkeley's median price.
High Net Worth Individual (HNWI) value both time and money, and time is the more precious commodity. Thus, since they have the resources, they're able and willing to pay a higher price for a home because they're limited in time.
Many of our clients have sold or bought fine homes … those priced at the 95% percentile … or the highest 5% of sales prices.
This shows how fine home prices are compared the median price for all of Berkeley.
In general, Berkeley's fine and luxury homes sell for about twice that of Berkeley's median price.
I used the 95% percentile rather than the highest sales price because it gives a trend rather than showing the price for a unique home.
Market Trends
Data from East Bay Regional MLS, which reflects sales made through the Multiple Listing Service (MLS). This gives a representative sampling of Berkeley real estate sales; private and off-market sales aren't included in this report.
#Serkes #Berkeley #MLS #Data