BOUGHT! Roger Lee Mid Century – El Cerrito Hills – Just Listed!
Roger Lee Mid-Century Modern on huge El Cerrito Hills view lot!
You'll love the wonderful San Francisco, Bridge and Bay views from the living and dining room picture windows.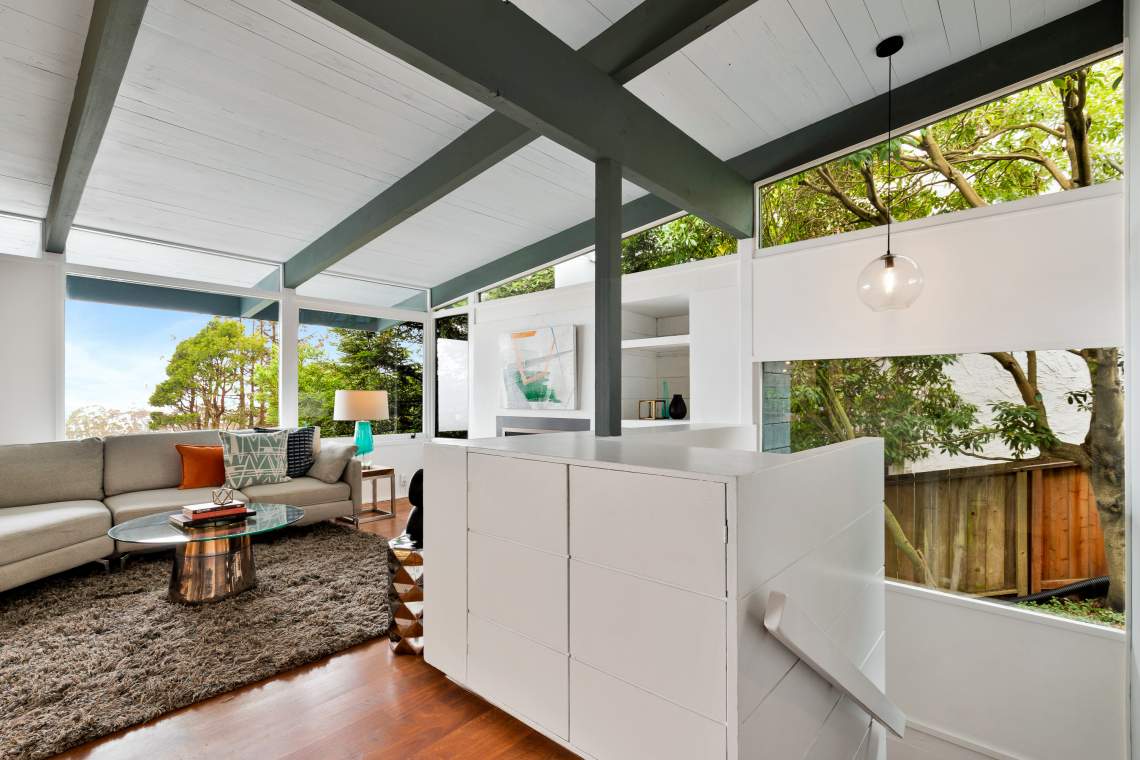 Great for entertaining – the kitchen opens to the living/dining area and also the large upper patio. Wooden steps take you to the lower patio, also accessed from the lower bedroom.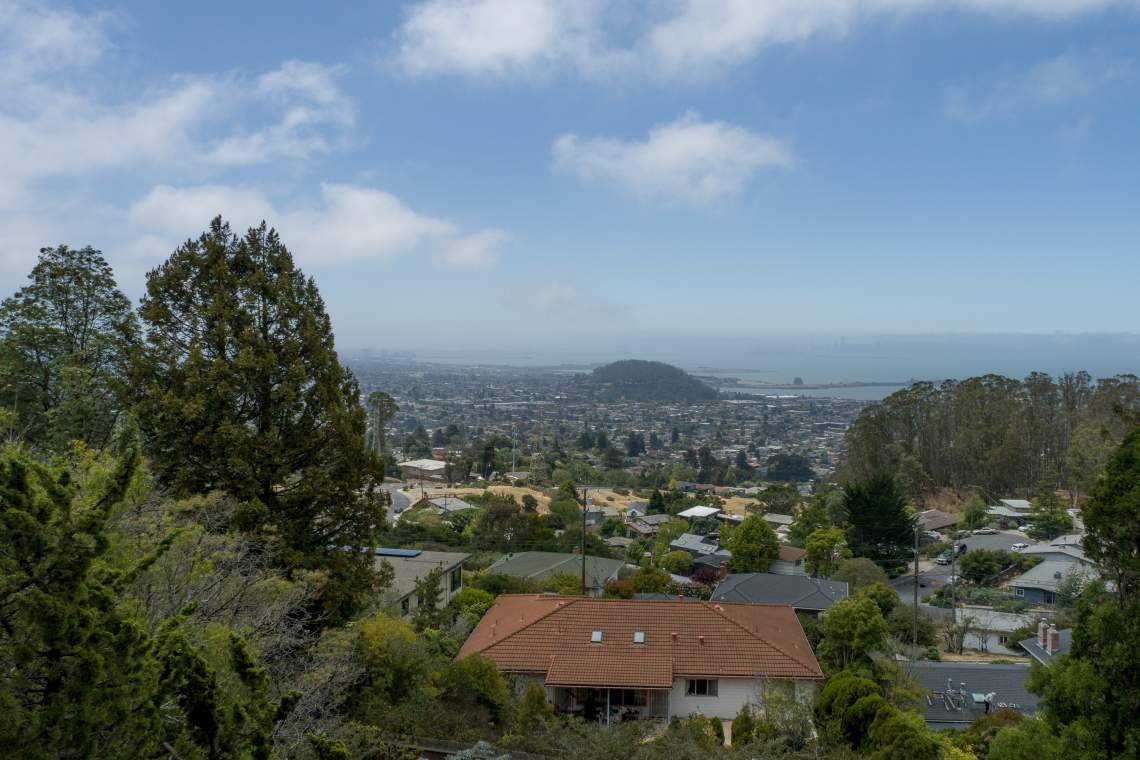 3 Bedrooms, 2 baths on the lower level, half bath on the main level. Lower level expansion done after the home was built.
Lightened and refreshed with new paint, floor restoration, light fixtures.
Other features – Gas insert fireplace in the living room, recently installed washer and dryer, 2 Car Carport with workshop/storage below, 10K+ Sq Ft Lot
What I've liked about living for 41 years at 1121 Contra Costa Drive in El Cerrito:
First of all, this is such an indoor-outdoor house. It has five doors, and so almost every room provides a way to easily slip into fresh air and greenery. The kitchen door opens onto a secluded deck where I sit almost every morning with a book, a cup of tea, a lap-robe, and my lap-cat. I'm sitting on this deck right now under a big umbrella and watching a hummingbird flitting around among the bright pink flowers. Downstairs, each bedroom opens directly onto the great outdoors, where, instead of traffic noises, I hear birdsong and the rustle of an occasional squirrel leaping from tree to tree over my head. Occasionally, when the hills are especially dry, deer visit my garden. They're beautiful and amaze my friends, although they certainly limit what I can grow here. But I love gardening, and I've nonetheless been able to do a lot of it here.
Then, set down as it is from the street and with so much greenery to provide insulation, this is such a private house. The large lot helps provide the quiet and privacy, and there is little traffic in this neighborhood in any case. My neighbors are quiet and considerate, though when I run into them walking their dogs during my morning walks along these quiet, winding streets, we often stop to chat. A number of us have lived here long enough to have followed each other's children grow up and develop their own lives.
But in spite of the welcome feeling of retreat and seclusion that living here can bring, we're actually not far from "civilization." The El Cerrito Plaza and Del Norte BART stations as well as the freeway itself are only a five-minute drive away. The small, convenient Kensington shopping center with its restaurant, grocery, and hardware store is equally close, and getting to El Cerrito Plaza, with its Lucky's, Trader Joe's, and CVS Pharmacy, takes about a ten-minute drive. On Sunday mornings, I almost always visit the farmer's market at nearby Colusa Circle. After buying my organic produce, I love to sit under an awning with pastry and coffee, chatting with the regulars and listening to the live music. About fifteen minutes along the scenic Arlington brings you into the wonders of the People's Republic of Berkeley, and in perhaps half an hour (bridge traffic allowing—or, more sensibly, on BART) you can have all of San Francisco, with its museums, opera, symphony, restaurants, clubs, and spectacular beauty, at your feet. I worked in San Francisco during my entire 30-year teaching career and took BART to and from the City five days a week.
And, of course, there is the house itself. Each of its different levels provides its own experience. When my children were young, the lower yard sported play equipment, its level expanse invited relay races and croquet matches, and my kids and their friends created clubhouses among the trees and bushes and played endless games of hide-and-seek. Without kids to pull me down to the lower yard, since they've left home and I've retired, I've spent most of my time on the upper and middle levels. Since the house boasts a spectacular bay view, the public rooms—living room, dining room, and kitchen—are all on the upper level and the bedrooms are below—even though the view from down there is pretty good, too. The house was designed in 1953 by the well-known Bay Area architect Roger Lee, who gave it lots of character—it's certainly not your standard boxy midcentury modern. I have loved living in such a beautiful, unusual, classy house, and I've tried to preserve most of its architectural character.
So—how can I leave all this—the house, the deck, the garden, the Bay Area, California? Well, my daughter and her family live in Canada, just over the border in BC. Grandchildren definitely are magnets, and it feels time to join them. So—I'll miss all this, but I have a new life waiting, and I pass all this on to you, my buyers. All the best from your seller. Enjoy! I certainly did.
Property Details
Price: $1,575,000
Address: 1121 Contra Costa Drive
City: El Cerrito
State: CA
Zip: 94530
MLS#: 40962908

Beds: 3
Baths: 2.5
Square Feet: 2,018
Garage: 2 Carport
Year Built: 1953
Status: Bought!
Contact Us About This Property