Beautifully Updated 5 Bedroom Berkeley Hills Home – 31 Maryland Avenue
31 Maryland Avenue, beautifully remodeled 5 bedroom 3 bath home!'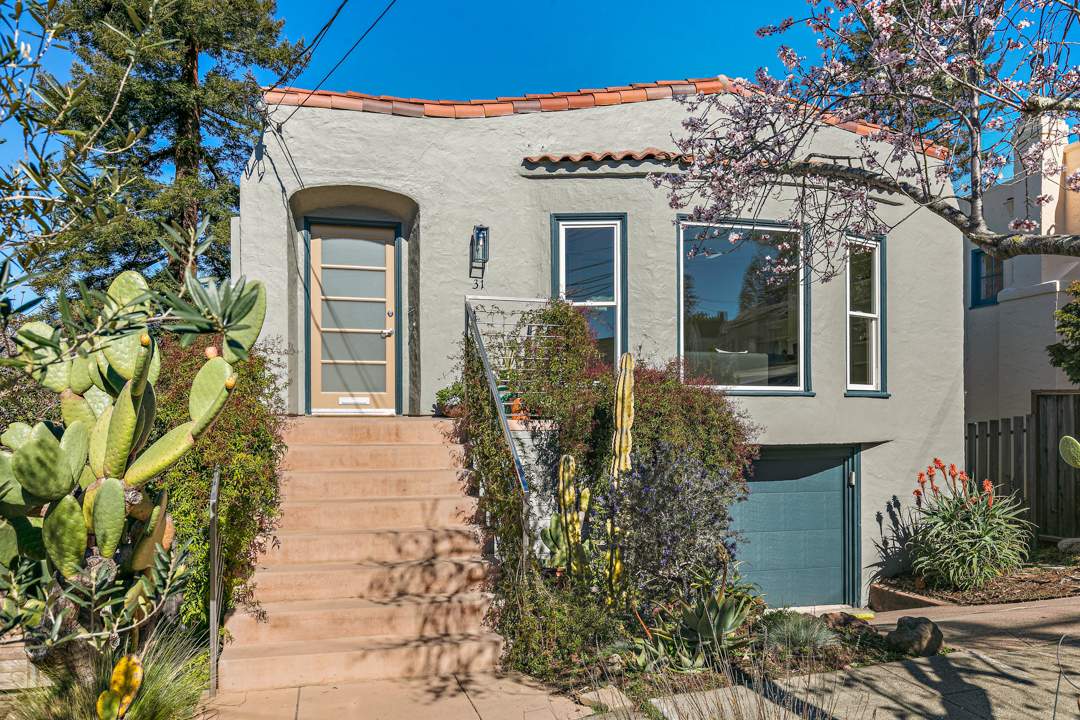 Visit BerkeleyHillsHomes.com for detailed map, photos, floor plan and walk-through tour.
Main level is open, bright and airy with living room, spacious dining room and large open kitchen with glass doors opening to a deck overlooking the back garden. There's a large center island with butcher block top; white cabinetry/drawers. Corian counters and office area
2 bedrooms and a full bath complete the upper level.
A natural light-filled staircase integrates the upper level with the lower level. The owners displayed their art on the light-filled wall.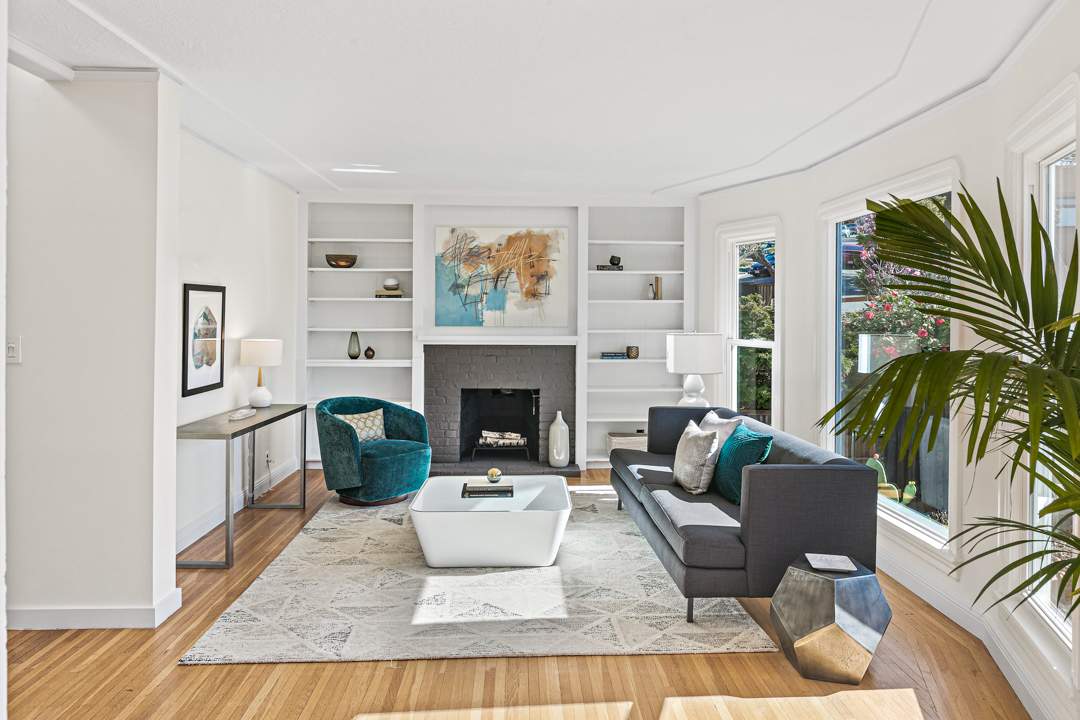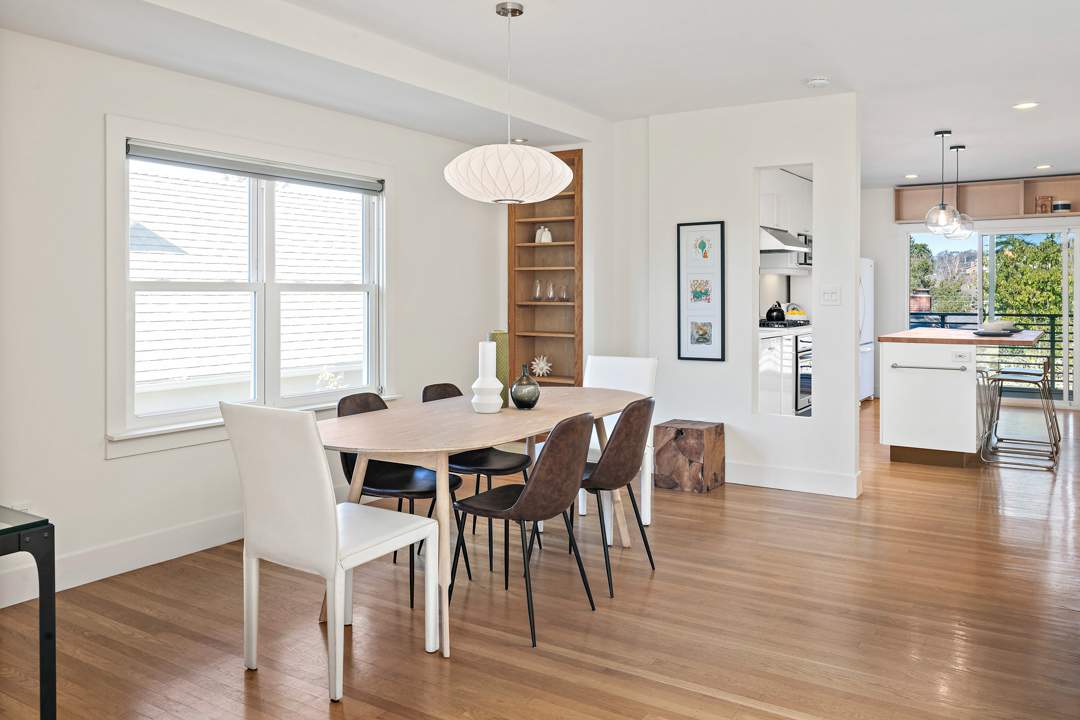 3 bedrooms, 2 baths, laundry, and garage. The 5th bedroom is a great guest/family space with a separate entry, counter bar sink, refrigerator, and private bath.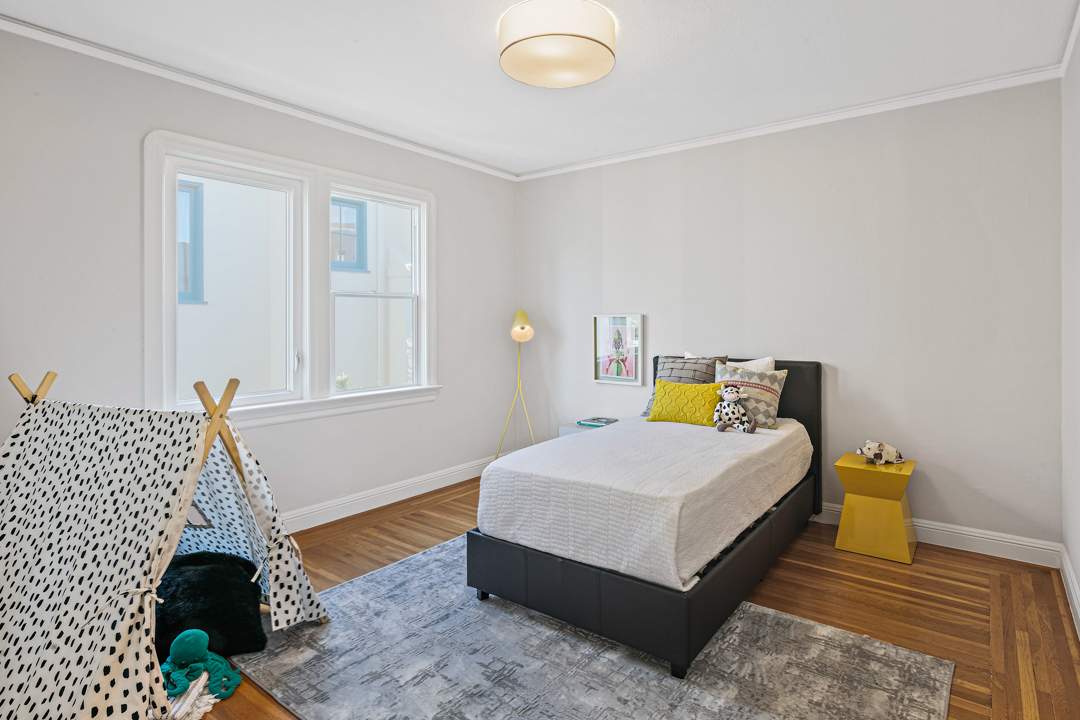 Plenty of storage space in the garage, separate shed stores bikes, strollers, and garden equipment … and under-stairs space under the front steps.
Introduction
This 1930's house was originally a two-bedroom, 1-bathroom house with a garage and partially finished unheated basement area extending around the back and sides of the garage. A breakfast room and a staircase (to a downstairs laundry space and heating system) were located behind a closed kitchen.
And from the sellers to you
Remodel
Our 2006 remodel, done with Eric Dumican from the award-winning firm (Dumican-Mosey Architects in San Francisco), comprised changing 75% of the available floor space.
We created a large, open kitchen with glass doors for access onto a deck. This was accomplished by pushing the back wall out by 5 feet, allowing us to create two bedrooms below and thus creating space for a deck on top. The deck has been used for family meals throughout the summer and BBQs.
We also popped out the side of the dining area and added a skylighted staircase down the center of the house leading to a fully new ground floor hallway with 3 more bedrooms, 2 bathrooms, linen closet, hall closet, and a laundry/utility room.
Wall space under the skylights was designed to emphasize and display many artworks.
The largest downstairs room was planned to function as an in-law or family room but eventually was used for visiting post-doc students on an ongoing year-by-year basis. It has a private entrance with an en suite bathroom, own sink, counter space, and fridge, as well as a separate entrance leading to a small private outside deck and side gate to the front of the house. Guests appreciated the quiet neighborhood with easy access.
The re-design increased the square footage by just over 100 feet and we were able to convert under-utilized space downstairs to three bedrooms and 2 bathrooms.
Living & Working Space
The result of the remodel was an open living space upstairs with an easy flow from the living room, to the dining room, kitchen and deck. This has been especially conducive to entertaining since people would congregate in small groups in the LR, but also flow easily through the DR, hang out in the open kitchen, then make their way out onto the deck to partake of BBQ.
From the deck, you can also nicely observe the ping pong games below on the stone backyard patio.
With grown-up children out of the house and during this current pandemic, the two upstairs bedrooms have been used as office and art studio workspaces.
Kitchen and Office Nook
When we had a new child arrive unexpectedly, we needed to move an office out of a bedroom and added the 'office nook' to the kitchen, complete with a rollout table and space for a printer on rollout shelf underneath. This is used by all and allowed us to work while cooking too!
The butcher block was used extensively for all cutting and has plumbing for a sink if this would be desired. Because the family did a great deal of cooking together and used an extensive number of kitchen tools, pots and pans were hung from a rack above the butcher block.
In the last years, a bookshelf was added over the glass doors in the kitchen. This shelf has been perfect for our cookbook collection – out of the way but always on hand!
Outside
In 2015, we added the bike/garden shed that is along the in-law side fence. This was a prefab bike shed we brought back from the Netherlands. It is located on a deck at the bottom of an existing ramp, with flagstones and a walkway that leads to the guest entrance.
In 2018, we rebuilt the front porch, using cement slab as well as high-grade stainless-steel railings to create an extremely durable maintenance-free, modern look to the entryway. Underneath the front porch, we created a storage space ideal for more bicycles and garden equipment. The porch was designed and constructed by Georg Buechi from Sticks & Stones, a design and build company in Berkeley.
Garden:
We planted a Valencia orange tree in front (18 years ago) that now is producing quite well.
The two plum trees, front and back produce quite a lot of plums when in season.
We planted all the succulents in the front as a dry garden (no watering necessary) and continued separating and replanting various pieces of the big prickly pear (which is a hybrid spineless version and very enthusiastic grower!).
The largest raised garden bed at the corner of the house has a tall healthy Lemon Verbena plant, bushy mature Marjoram plant, Sage, Winter Savory, Thyme, Chard (that keeps coming back) chives, and some garlic along the edge. The other beds were used for more Sage, Thyme, Mint (spearmint, chocolate mint, and regular), and flowers.
The aloe in the front on the right side is great for treating sunburns.
Neighborhood Amenities, Public Transportation, Pathways and Schools
We have kind, thoughtful, quiet neighbors on all sides of the house and a really positive and engaged neighborhood community. Other special qualities to this house and its location that we have particularly enjoyed include:
Access to nearby amenities:
An easy 5 min. walking distance down the Maryland Walk for Young's groceries, butcher, tea/coffee shop, excellent sushi, and American restaurants, Ace hardware, dentist, orthodontist, gas & auto shop, USPS mailbox, and wine shop.
Easy access to two major bus lines that connect the hills to King Middle School and Berkeley High School: one on Spruce (#67), the other on the Arlington (#7). An elementary school bus can be arranged through the school district. Also, on the Arlington, a bus will pick up commuters going into San Francisco.
The hills Pathways are a charming and useful feature for getting all-around on foot. These are well maintained by a local volunteer organization providing for great walking, views
Nearby Kensington Library and Blake Garden (UC Berkeley) are within walking distance. The top of Solano Avenue with restaurants and Peet's Coffee and the Kensington Farmer's market (on Sunday 10a-2p) are a pleasant 20-30 min walk down the hill.
Great access to jogging paths, dog walking, and mountain biking in nearby Tilden.
Schools nearby (check with the Berkeley Unified School District to find out which kids would attend)
Kindergarten: Step Two, Claremont Day Nurseries
Elementary: Cragmont and Thousand Oaks
Middle School: King Middle School
High School: Berkeley High
Property Details
Price: $1,770,000
Address: 31 Maryland Avenue
City: Berkeley
State: CA
Zip: 94707

Beds: 5
Baths: 3
Square Feet: n/a
Garage: n/a
Year Built: n/a
Status: Berkeley Hills - Bought!
Contact Us About This Property