Albany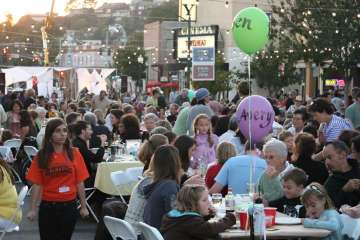 Albany, the small city bordering Berkeley to the west down Solano Avenue, has highly ranked schools, lots of parks and open space, and a diverse selection of restaurants.
Albany Library is part of the Alameda County Library System, which gives access to books and videos all over the network. The Albany Theater shows superb first-run movies, and there's a great selection of small businesses, restaurants and cafes on Solano and San Pablo Avenues. Some favorites are China Village, Little Star Pizza, Zand Middle Eastern Market, Renee's Place (quiet, elegant Chinese food with classical music in the background) and Rivoli (be sure to look for wildlife in the garden).
Sorry we are experiencing system issues. Please try again.
Albany and Berkeley co-host the Solano Stroll, a mile long block party, each September. The parade with fire engine, marching band, dancers and performers kicks it off at the top of Solano; then the street is filled with music, food, performances and more – always a real treat to attend.
The folks living on Albany Hill have some of the best views … of the Berkeley Hills! Watching the full moon, or early morning crescent moon rise over the Berkeley Hills is magical. That's where I took my super moon photo May 2012.
The west facing side of Albany Hill has outstanding views of the Golden Gate, Mt. Tamalpais, and San Francisco. Albany Hill is actually "el cerrito" … which means "little hill" in Spanish.
There's lots of open space for a such a small town. Memorial Park has playgrounds, ball fields, a dog park and even a swimming pool. Albany Hill Park is at the top of "el cerrito". Head down Buchanan and pass under the highway to visit Albany Bulb, Albany Mudflats State Marine Park, Albany and Buchanan Dog Beaches, and Golden Gate Fields race track and public soccer fields.
Need a break? Visit the Albany Sauna on Solano. Leave time for a steam sauna before your massage.
Are you a neon sign fan? Be sure to check out the Hotsy Totsy Club, Mallard, Albany Bowl, and Max's Liquors on San Pablo between Solano and Brighton, all known for the old signs that light up the night.
Highly ranked schools, lots of parks and trails, first run movies, a Community Center, and more. Albany, just to the north and west of Berkeley, is great place to live!
Visit the Solano Avenue Association Web site.
Want great schools in a friendly community? We'll find you a home you'll love! Call 510-526-6668 or email serkes@berkeleyhomes.com
#Albany #Serkes